Mit dem neuen Regelwerk der American Paint Horse Assn. (APHA) für das Jahr 2022 kommen einige Änderungen auf Sportler und Züchter zu.
Ab 2022 ist ein DNA-Test für die Ausstellung von APHA-Papieren erforderlich (siehe hier), in Europa können Turnierveranstalter ab dem Jahr 2022 eine "3 years & older in-hand trail class" und eine "longe line class" für ältere Pferde anbieten.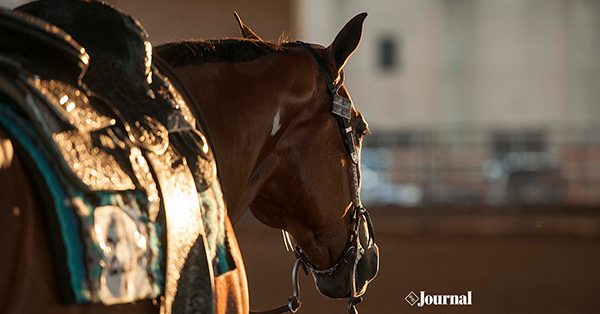 Hier finden Sie das APHA Rulebook 2022.



Alle Regeländerungsanträge für die APHA Convention im Original:
CONTROL #ART IV- Summary: Allows Youth to stay on the AjPHA Executive Committee from the minimum to maximum age requirements, but they may only hold the same position for a maximum four years.
CONTROL #GR-020- Summary: RevisesGR-020 sections J. and K. to explain the details of life memberships.
CONTROL # RG-120- Summary: Updates and simplifies the embryo transfer rules, and removes the requirement for an embryo transfer permit and fee for those used in the same year of harvest. The permit and fee is still required by October 1 of the collection year for vitrified embryo(s).
CONTROL #RG-125- Summary: Simplifies and removes duplication of information in the existing RG-125 rule.
CONTROL #SC-105- Summary: Allows APHA regional clubs to co-host PORs outside of one of the hosts' boundaries as long as the show is within one of the clubs' boundaries.
CONTROL #SC-110- Summary: Requires that show managers and secretaries cannot exhibit at the show they are working in those roles.
CONTROL #SC-110-1-Summary: Requires certification of APHA show secretaries, and encourages education of APHA show managers, by completion of a certification program to increase the accuracy and completion of show applications and results to improve the associations ability to post approved shows and results on the APHA website in a timely manner.
CONTROL #SC-125- Summary: Reduces the show submission deadline and assesses a late fee for late submissions of show results.
CONTROL #SC-192-2- Summary: Prohibits use of raised poles for trot overs in the yearling and 2-year-old in-hand trail.
CONTROL #SC-196- Summary: Gives APHA show managers in Zones 12, 13 and 14 the option to add a 3 years & older in-hand trail class to their show bills with all performance rules as per SC-192.
CONTROL #SC-197- Summary: Gives APHA show managers in Zones 12, 13 and 14 the option to add a longe line class for older horses to their show bills.
CONTROL #SC-250- Summary: Expands the OP (Off Pattern) rule to all Novice, Walk-Trot and Green classes.
CONTROL #SC-303- Summary: Offers the option to split age divisions in Ranch Rail Pleasure at shows with large class sizes.
CONTROL #AM-010-2- Summary: Allows Amateurs to benefit from their name, image and likeness by receiving products or service endorsements without losing their Amateur eligibility.
CONTROL #AM-105-2- Summary: Allows clipping to be optional in showmanship at halter classes.
CONTROL #AM-125- Summary: Creates consistency in the rule, promotes participation and eliminates unnecessary fines imposed on exhibitors.
CONTROL #AM-245- Summary: Allows riders to ride any age horse with one hand on the reins or two hands with proper equipment, either a bosal or snaffle bit, in all APHA Novice and APHA Walk-Trot divisions.
CONTROL #AM-300- Summary: Adds Amateur Halter Classes (Amateur Halter or Amateur Performance Halter) to be included in Top 20 standings points for the Amateur Walk-Trot Division.
CONTROL #AM-300-1- Summary: Prohibits Amateur and/or Novice Amateur exhibitors from reclassifying to Walk-Trot during the calendar year.
CONTROL #AM-300-3- Summary: Requires Novice eligibility in riding classes for Walk-Trot exhibitors aged 19-64, while allowing all Amateur-eligible exhibitors age 65 and over to participate in the Amateur Walk-Trot program.
CONTROL #AM-300-5- Summary: Exhibitors can't compete in loping classes at other recognized equine associations or be a member of an intercollegiate team and hold an Amateur Walk-Trot card in the same calendar year.
CONTROL #JU-000- Summary: Revises outdated and contradictory of halter rules.
CONTROL #JU-000-2- Summary: Revises the judge review process from a three-year review cycle to a continuous review.
Fragen? Die 20 wittelsbuerger.com-Experten helfen gerne weiter,
Zum wittelsbuerger.com-Expertenforum gelangen Sie hier.



Fügen Sie diese Seite Ihren Bookmarks hinzu!